The more usual simplified version looks like this:


Alternatively, you could write separate equations for the two stages of the reaction - the formation of ethanal and then its subsequent oxidation.


This is what is happening in the second stage:


Secondary alcohols
Secondary alcohols are oxidised to ketones - and that's it. For example, if you heat the secondary alcohol propan-2-ol with sodium or potassium dichromate(VI) solution acidified with dilute sulphuric acid, you get propanone formed.
Playing around with the reaction conditions makes no difference whatsoever to the product.
Using the simple version of the equation and showing the relationship between the structures:


If you look back at the second stage of the primary alcohol reaction, you will see that an oxygen "slotted in" between the carbon and the hydrogen in the aldehyde group to produce the carboxylic acid. In this case, there is no such hydrogen - and the reaction has nowhere further to go.
Tertiary alcohols
Tertiary alcohols aren't oxidised by acidified sodium or potassium dichromate(VI) solution. There is no reaction whatsoever.
If you look at what is happening with primary and secondary alcohols, you will see that the oxidising agent is removing the hydrogen from the -OH group, and a hydrogen from the carbon atom attached to the -OH. Tertiary alcohols don't have a hydrogen atom attached to that carbon.
You need to be able to remove those two particular hydrogen atoms in order to set up the carbon-oxygen double bond.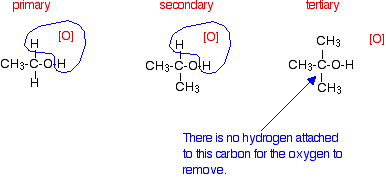 Using these reactions as a test for the different types of alcohol
Doing the test
First you have to be sure that you have actually got an alcohol by testing for the -OH group. You would need to show that it was a neutral liquid, free of water and that it reacted with solid phosphorus(V) chloride to produce a burst of acidic steamy hydrogen chloride fumes.