In alkanes, the only intermolecular forces are van der Waals dispersion forces. Hydrogen bonds are much stronger than these and therefore it takes more energy to separate alcohol molecules than it does to separate alkane molecules.
That's the main reason that the boiling points are higher.
The effect of van der Waals forces . . .
. . . on the boiling points of the alcohols:
Hydrogen bonding isn't the only intermolecular force in alcohols. There are also van der Waals dispersion forces and dipole-dipole interactions.
The hydrogen bonding and the dipole-dipole interactions will be much the same for all the alcohols, but the dispersion forces will increase as the alcohols get bigger.
These attractions get stronger as the molecules get longer and have more electrons. That increases the sizes of the temporary dipoles that are set up.
This is why the boiling points increase as the number of carbon atoms in the chains increases. It takes more energy to overcome the dispersion forces, and so the boiling points rise.
. . . on the comparison between alkanes and alcohols:
Even if there wasn't any hydrogen bonding or dipole-dipole interactions, the boiling point of the alcohol would be higher than the corresponding alkane with the same number of carbon atoms.
Compare ethane and ethanol:

Ethanol is a longer molecule, and the oxygen brings with it an extra 8 electrons. Both of these will increase the size of the van der Waals dispersion forces and so the boiling point.
If you were doing a really fair comparison to show the effect of the hydrogen bonding on boiling point it would be better to compare ethanol with propane rather than ethane. The length would then be much the same, and the number of electrons is exactly the same.
Solubility of alcohols in water
The small alcohols are completely soluble in water. Whatever proportions you mix them in, you will get a single solution.
However, solubility falls as the length of the hydrocarbon chain in the alcohol increases. Once you get to four carbons and beyond, the fall in solubility is noticeable, and you may well end up with two layers in your test tube.
The solubility of the small alcohols in water
Consider ethanol as a typical small alcohol. In both pure water and pure ethanol the main intermolecular attractions are hydrogen bonds.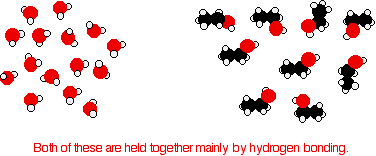 In order to mix the two, you would have to break the hydrogen bonds between the water molecules and the hydrogen bonds between the ethanol molecules. It needs energy to do both of these things.
However, when the molecules are mixed, new hydrogen bonds are made between water molecules and ethanol molecules.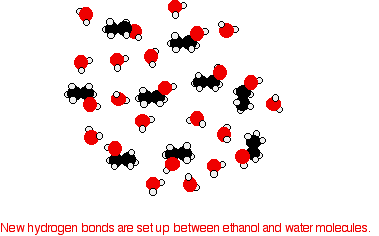 The energy released when these new hydrogen bonds are made more or less compensates for that needed to break the original ones.
In addition, there is an increase in the disorder of the system - an increase in entropy. That is another factor in deciding whether things happen or not.