Diagrams like this are described as energy profiles. In the diagram above, you can clearly see that you need an input of energy to get the reaction going. Once the activation energy barrier has been passed, you can also see that you get even more energy released, and so the reaction is overall exothermic.
If you had an endothermic reaction, a simple energy profile for a non-catalysed reaction would look like this: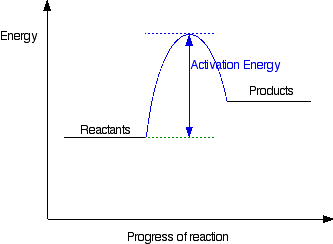 Unfortunately, for many reactions, the real shapes of the energy profiles are slightly different from these, and the rest of this page explores some simple differences. What matters is whether the reaction goes via a single transition state or an intermediate. We will look at these two different cases in some detail.
Energy profiles for reactions which go via a single transition state only
This is much easier to talk about with a real example. The equation below shows an organic chemistry reaction in which a bromine atom is being replaced by an OH group in an organic compound. The starting compound is bromoethane, and the organic product is ethanol.


During the reaction one of the lone pairs of electrons on the negatively charged oxygen in the -OH group is attracted to the carbon atom with the bromine attached.
That's because the bromine is more electronegative than carbon, and so the electron pair in the C-Br bond is slightly closer to the bromine. The carbon atom becomes slightly positively charged and the bromine slightly negative.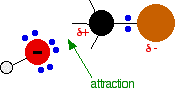 As the hydroxide ion approaches the slightly positive carbon, a new bond starts to be set up between the oxygen and the carbon. At the same time, the bond between the carbon and bromine starts to break as the electrons in the bond are repelled towards the bromine.
At some point, the process is exactly half complete. The carbon atom now has the oxygen half-attached, the bromine half-attached, and the three other groups still there, of course.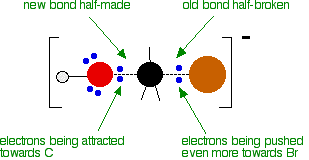 And then the process completes: