The boiling points of carboxylic acids of similar size are higher still.
For example:
| | | |
| --- | --- | --- |
| propan-1-ol | CH3CH2CH2OH | 97.2°C |
| ethanoic acid | CH3COOH | 118°C |
These are chosen for comparison because they have identical relative molecular masses and almost the same number of electrons (which affects van der Waals dispersion forces).
The higher boiling points of the carboxylic acids are still caused by hydrogen bonding, but operating in a different way.
In a pure carboxylic acid, hydrogen bonding can occur between two molecules of acid to produce a dimer.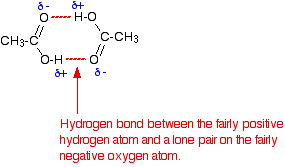 This immediately doubles the size of the molecule and so increases the van der Waals dispersion forces between one of these dimers and its neighbours - resulting in a high boiling point.
Solubility in water
In the presence of water, the carboxylic acids don't dimerise. Instead, hydrogen bonds are formed between water molecules and individual molecules of acid.
The carboxylic acids with up to four carbon atoms will mix with water in any proportion. When you mix the two together, the energy released when the new hydrogen bonds form is much the same as is needed to break the hydrogen bonds in the pure liquids.
The solubility of the bigger acids decreases very rapidly with size. This is because the longer hydrocarbon "tails" of the molecules get between water molecules and break hydrogen bonds. In this case, these broken hydrogen bonds are only replaced by much weaker van der Waals dispersion forces.