In the second stage of the reaction the protonated propan-2-ol loses a water molecule to leave a carbocation (previously known as a carbonium ion) - an ion with a positive charge on a carbon atom.

The carbon atom is positive because it has lost the electron that it originally contributed to the carbon-oxygen bond. Both of the electrons in that bond have moved onto the oxygen atom, neutralising the oxygen's charge.
Finally, a hydrogensulphate ion (from the sulphuric acid) pulls off a hydrogen ion from the carbocation, and a double bond forms.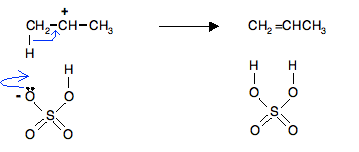 The mechanism - a simplified version
People normally quote a simplified version of this mechanism. Instead of showing the full structure of the sulphuric acid, you write it as if it were simply a hydrogen ion, H+. That leaves the full mechanism:
An advantage of this (apart from the fact that it doesn't require you to draw the structure of sulphuric acid) is that it can be used for any acid catalyst without changing it at all. For example, if you use this version, you wouldn't need to worry about the structure of phosphoric(V) acid.