The alternative mechanism avoids the formation of the carbocation, and so avoids the high activation energy.
We are going to discuss the mechanism using sulphuric acid.
In the first stage, one of the lone pairs of electrons on the oxygen picks up a hydrogen ion from the sulphuric acid. The alcohol is said to be protonated. That is exactly the same as happens with propan-2-ol and the other secondary and tertiary alcohols.
In the mechanism we have already looked at with propan-2-ol, the next thing to happen was loss of water to form a carbocation, followed by removal of a hydrogen ion from the carbocation and the formation of a double bond.
In this case, instead of happening in two separate steps, this all happens at the same time in one smooth operation. By doing that, you avoid the formation of an unstable primary carbocation for primary alcohols.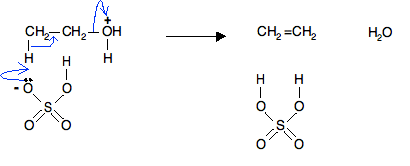 No simplified version of this!
I am not giving a simplified version of this mechanism just in terms of hydrogen ions. If you don't show something removing the hydrogen ion from the protonated alcohol, you are really missing an important feature of the reaction.
Why do I think this is most probably the correct version?
There is experimental evidence to support it. While I was researching this, I came across two academic papers (here and here). These suggest that there is experimental evidence for both propan-1-ol and ethanol dehydrating using a mechanism which doesn't involve a carbocation as the intermediate. I haven't been able to find any experimental evidence for a dehydration mechanism involving carbocations in the case of primary alcohols.
Reliable sources quote the mechanism above. For example, the first page of a Google search for dehydration ethanol mechanism includes two university sources from LibreTexts from the University of California, and from the University of Calgary.
Interestingly, if you read sources giving this mechanism, they will usually explain why it is different for primary alcohols rather than secondary or tertiary ones - in terms of the stability of the carbocations. Sources quoting the other mechanism tend to quote it without comment.