Some potassium manganate(VII) chemistry
Potassium manganate(VII) (potassium permanganate) is a powerful oxidising agent.
Using potassium manganate(VII) as an oxidising agent in organic chemistry
Potassium manganate(VII) is usually used in neutral or alkaline solution in organic chemistry. Acidified potassium manganate(VII) tends to be a rather destructively strong oxidising agent, breaking carbon-carbon bonds.
The potassium manganate(VII) solution is usually made mildly alkaline with sodium carbonate solution, and the typical colour changes are: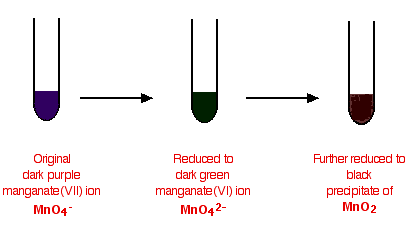 In testing for a C=C double bond
Potassium manganate(VII) oxidises carbon-carbon double bonds, and so goes through the colour changes above.
Ethene, for example, is oxidised to ethane-1,2-diol.


The oxygen in square brackets is taken to mean "oxygen from an oxidising agent". This abbreviated form of the equation is most commonly used in organic chemistry. You are very unlikely to have to write the complete ionic equation for this reaction at this level.
To be honest, this isn't a good test for a carbon-carbon double bond, because anything which is even mildly reducing would have the same effect on the potassium manganate(VII) solution.
You could, however, use this reaction simply as a means of making the diol.
In the oxidation of aromatic side chains
Alkaline potassium manganate(VII) solution oxidises any hydrocarbon side chain attached to a benzene ring back to a single -COOH group. Prolonged heating is necessary.
For example:


Because the solution is alkaline, you will initially get benzoate ions formed rather than the acid. The sulphuric acid is added to convert the ions to the acid.
With longer side chains, you will get all sorts of mixtures of other products - but in each case, the main product will be benzoic acid.


Using potassium manganate(VII) as an oxidising agent in titrations
Background
Potassium manganate(VII) solution is used to find the concentration of all sorts of reducing agents. It is always used in acidic solution.
For example, it oxidises
iron(II) ions to iron(III) ions

hydrogen peroxide solution to oxygen

ethanedioic acid to carbon dioxide (This reaction has to be done hot.)

sulphite ions (sulphate(IV) ions) to sulphate ions (sulphate(VI) ions)
In each case, the half-equation for the manganate(VII) ions in acidic solution is:


These equations can be combined to give you an overall ionic equation for each possible reaction. That, of course, also gives you the reacting proportions.
For example, when the equations are combined, you find that 1 mole of MnO4- ions react with 5 moles of Fe2+ ions. Having got that information, the titration calculations are just like any other ones.