Reaction of ammonia with the hexaaqua ion
Statistically, there is far more chance of an ammonia molecule hitting a hexaaqua metal ion than of hitting a hydrogen ion. There are far more hexaaqua ions present.
If that happens, you get exactly the same new complex ion formed as above.


Notice that this is still a reversible change (unlike the corresponding change when you add hydroxide ions). Ammonia is only a weak base.
The second stage of the reaction
Whichever of the above reactions happens, you end up with [M(H2O)5(OH)]+ ions in solution. These are also acidic, and can lose hydrogen ions from another of the water ligands.
Taking the easier version of the equilibrium:


Adding ammonia again tips the equilibrium to the right - either by reacting with the hydrogen ions, or by reacting directly with the complex on the left-hand side.
When this happens, the new complex formed no longer has a charge - this is a "neutral complex". It is insoluble in water - and so a precipitate is formed.
This precipitate is often written without including the remaining water ligands. In other words we write it as M(OH)2. A precipitate of the metal hydroxide has been formed.
Summarising what has happened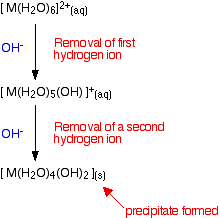 You can also usefully write the complete change as an overall equilibrium reaction. This will be important for later on.


If you did the same reaction with a 3+ ion, the only difference is that you would have to remove a total of 3 hydrogen ions in order to get to the neutral complex. That would give the overall equation:


Looking at the ions of specific metals
Remember that we are concentrating for the moment on the ammonia acting as a base - in other words, on the formation of hydroxide precipitates when you add small amounts of ammonia solution to solutions containing hexaaqua metal ions.
The diagrams, however, will show the complete change so I don't have to repeat them later on. Ignore the cases where the precipitate dissolves in excess ammonia for the moment.
2+ ions
hexaaquacobalt(II)