Some essential copper(I) chemistry
The disproportionation of copper(I) ions in solution
Copper(I) chemistry is limited by a reaction which occurs involving simple copper(I) ions in solution. This is a good example of disproportionation - a reaction in which something oxidises and reduces itself.
Copper(I) ions in solution disproportionate to give copper(II) ions and a precipitate of copper.
The reaction is: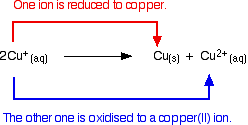 Any attempt to produce a simple copper(I) compound in solution results in this happening.
For example, if you react copper(I) oxide with hot dilute sulphuric acid, you might expect to get a solution of copper(I) sulphate and water produced. In fact you get a brown precipitate of copper and a blue solution of copper(II) sulphate because of the disproportionation reaction.


Stabalising the copper(I) oxidation state
Insoluble copper(I) compounds
We've already seen that copper(I) iodide is produced as an off-white precipitate if you add potassium iodide solution to a solution containing copper(II) ions. The copper(I) iodide is virtually insoluble in water, and so the disproportionation reaction doesn't happen.
Similarly copper(I) chloride can be produced as a white precipitate (reaction described below). Provided this is separated from the solution and dried as quickly as possible, it remains white. In contact with water, though, it slowly turns blue as copper(II) ions are formed.
The disproportionation reaction only occurs with simple copper(I) ions in solution.
Copper(I) complexes
Forming copper(I) complexes (other than the one with water as a ligand) also stabalises the copper(I) oxidation state.
For example, both [Cu(NH3)2]+ and [CuCl2]- are copper(I) complexes which don't disproportionate.
The chlorine-containing complex is formed if copper(I) oxide is dissolved in concentrated hydrochloric acid.
You can think of this happening in two stages. First, you get copper(I) chloride formed:


But in the presence of excess chloride ions from the HCl, this reacts to give a stable, soluble copper(I) complex.


You can get the white precipitate of copper(I) chloride (mentioned above) by adding water to this solution. This reverses the last reaction by stripping off the extra chloride ion.
Questions to test your understanding
If this is the first set of questions you have done, please read the introductory page before you start. You will need to use the BACK BUTTON on your browser to come back here afterwards.
Where would you like to go now?

To the transition metal menu . . .

To the Inorganic Chemistry menu . . .

---
© Jim Clark 2003 (modified July 2015)