A 1s orbital holding 2 electrons would be drawn as shown on the right, but it can be written even more quickly as 1s2. This is read as "one s two" - not as "one s squared".
You mustn't confuse the two numbers in this notation:

The order of filling orbitals - the Aufbau Principle
Aufbau is a German word meaning building up or construction. We imagine that as you go from one atom to the next in the Periodic Table, you can work out the electronic structure of the next atom by fitting an extra electron into the next available orbital.
Electrons fill low energy orbitals (closer to the nucleus) before they fill higher energy ones. Where there is a choice between orbitals of equal energy, they fill the orbitals singly as far as possible.
This filling of orbitals singly where possible is known as Hund's rule. It only applies where the orbitals have exactly the same energies (as with p orbitals, for example), and helps to minimise the repulsions between electrons and so makes the atom more stable.
The diagram (not to scale) summarises the energies of the orbitals up to the 4p level that you will need to know when you are using the Aufbau Principle.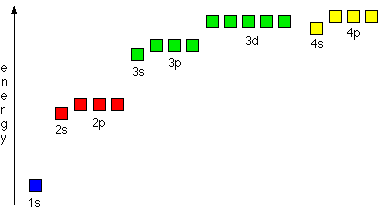 Notice that the s orbital always has a slightly lower energy than the p orbitals at the same energy level, so the s orbital always fills with electrons before the corresponding p orbitals.
The real oddity is the position of the 3d orbitals. They are at a slightly higher level than the 4s - and so it is the 4s orbital which you fill first, followed by all the 3d orbitals and then the 4p orbitals.
Similar confusion occurs at higher levels, with so much overlap between the energy levels that you don't fill the 4f orbitals until after the 6s, for example.
For UK-based exam purposes, you simply have to remember that when you are using the Aufbau Principle, you fill the 4s orbital before the 3d orbitals. The same thing happens at the next level as well - you fill the 5s orbital before the 4d orbitals. All the other complications are beyond the scope of this site.
Knowing the order of filling is central to understanding how to write electronic structures. Follow the link below to find out how to do this.
Questions to test your understanding
If this is the first set of questions you have done, please read the introductory page before you start. You will need to use the BACK BUTTON on your browser to come back here afterwards.
Where would you like to go now?

---
© Jim Clark 2000 (last modified May 2021)