COVALENT BONDING - SINGLE BONDS
This page explains what covalent bonding is. It starts with a simple picture of the single covalent bond, and then modifies it slightly for A'level purposes.
It also goes on to a more sophisticated view involving hybridisation. This isn't required by many UK-based syllabuses at this level. However, if you can follow it, it will make the bonding in organic compounds easier to understand. I shall make use of it throughout the rest of Chemguide.
You will find a link to a page on double covalent bonds at the bottom of the page.
A simple view of covalent bonding
The importance of noble gas structures
At a simple level (like GCSE) a lot of importance is attached to the electronic structures of noble gases like neon or argon which have eight electrons in their outer energy levels (or two in the case of helium). These noble gas structures are thought of as being in some way a "desirable" thing for an atom to have.
You may well have been left with the strong impression that when other atoms react, they try to achieve noble gas structures.
As well as achieving noble gas structures by transferring electrons from one atom to another as in ionic bonding, it is also possible for atoms to reach these stable structures by sharing electrons to give covalent bonds.
Some very simple covalent molecules
Chlorine
For example, two chlorine atoms could both achieve stable structures by sharing their single unpaired electron as in the diagram.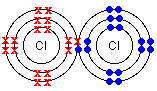 The fact that one chlorine has been drawn with electrons marked as crosses and the other as dots is simply to show where all the electrons come from. In reality there is no difference between them.
The two chlorine atoms are said to be joined by a covalent bond. The reason that the two chlorine atoms stick together is that the shared pair of electrons is attracted to the nucleus of both chlorine atoms.
Hydrogen

Hydrogen atoms only need two electrons in their outer level to reach the noble gas structure of helium. Once again, the covalent bond holds the two atoms together because the pair of electrons is attracted to both nuclei.
Hydrogen chloride

The hydrogen has a helium structure, and the chlorine an argon structure.
Covalent bonding at A'level
Cases where there isn't any difference from the simple view
If you stick closely to modern A'level syllabuses, there is little need to move far from the simple (GCSE) view. The only thing which must be changed is the over-reliance on the concept of noble gas structures. Most of the simple molecules you draw do in fact have all their atoms with noble gas structures.
For example:

Even with a more complicated molecule like PCl3, there's no problem. In this case, only the outer electrons are shown for simplicity. Each atom in this structure has inner layers of electrons of 2,8. Again, everything present has a noble gas structure.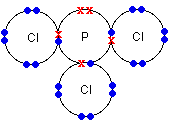 Cases where the simple view throws up problems
Boron trifluoride, BF3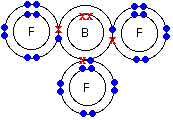 A boron atom only has 3 electrons in its outer level, and there is no possibility of it reaching a noble gas structure by simple sharing of electrons. Is this a problem? No. The boron has formed the maximum number of bonds that it can in the circumstances, and this is a perfectly valid structure.
Energy is released whenever a covalent bond is formed. Because energy is being lost from the system, it becomes more stable after every covalent bond is made. It follows, therefore, that an atom will tend to make as many covalent bonds as possible. In the case of boron in BF3, three bonds is the maximum possible because boron only has 3 electrons to share.