Finding enthalpy changes of reaction from bond enthalpies
I can only give a brief introduction here, because this is covered in careful, step-by-step detail in my chemistry calculations book.
Cases where everything present is gaseous
Remember that you can only use bond enthalpies directly if everything you are working with is in the gas state.
Using the same method as for other enthalpy sums
We are going to estimate the enthalpy change of reaction for the reaction between carbon monoxide and steam. This is a part of the manufacturing process for hydrogen.


The bond enthalpies are:
| | bond enthalpy (kJ mol-1) |
| --- | --- |
| C-O in carbon monoxide | +1077 |
| C-O in carbon dioxide | +805 |
| O-H | +464 |
| H-H | +436 |
So let's do the sum. Here is the cycle - make sure that you understand exactly why it is the way it is.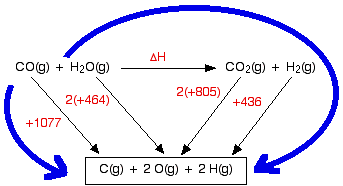 And now equate the two routes, and solve the equation to find the enthalpy change of reaction.
ΔH + 2(805) + 436 = 1077 + 2(464)
ΔH = 1077 + 2(464) - 2(805) - 436
ΔH = -41 kJ mol-1
Using a short-cut method for simple cases
You could do any bond enthalpy sum by the method above - taking the molecules completely to pieces and then remaking the bonds. If you are happy doing it that way, just go on doing it that way.
However, if you are prepared to give it some thought, you can save a bit of time - although only in very simple cases where the changes in a molecule are very small.
For example, chlorine reacts with ethane to give chloroethane and hydrogen chloride gases.


(All of these are gases. I have left the state symbols out this time to avoid cluttering the diagram.)
It is always a good idea to draw full structural formulae when you are doing bond enthalpy calculations. It makes it much easier to count up how many of each type of bond you have to break and make.
If you look at the equation carefully, you can see what I mean by a "simple case". Hardly anything has changed in this reaction. You could work out how much energy is needed to break every bond, and how much is given out in making the new ones, but quite a lot of the time, you are just remaking the same bond.
All that has actually changed is that you have broken a C-H bond and a Cl-Cl bond, and made a new C-Cl bond and a new H-Cl bond. So you can just work those out.
| | bond enthalpy (kJ mol-1) |
| --- | --- |
| C-H | +413 |
| Cl-Cl | +243 |
| C-Cl | +346 |
| H-Cl | +432 |
Work out the energy needed to break C-H and Cl-Cl:
+413 + 243 = +656 kJ mol-1
Work out the energy released when you make C-Cl and H-Cl:
-346 - 432 = -778 kJ mol-1
So the net change is +656 - 778 = -122 kJ mol-1