What the metals look like when they burn is a bit problematical!
Beryllium: I can't find a reference anywhere (text books or internet) to the colour of the flame that beryllium burns with. My best guess would be the same sort of silvery sparkles that magnesium or aluminium powder burn with if they are scattered into a flame - but I don't know that for sure.

Magnesium, of course, burns with a typical intense white flame.

Calcium is quite reluctant to start burning, but then bursts dramatically into flame, burning with an intense white flame with a tinge of red at the end.

Strontium: I have only seen this burn on video. It is also reluctant to start burning, but then burns with an intense almost white flame with red tinges especially around the outside.

Barium: I have also only seen this burn on video, and although the accompanying description talked about a pale green flame, the flame appeared to be white with some pale green tinges. It wasn't noticeably any more dramatic than the familiar magnesium flame.
Formation of peroxides
Strontium and barium will also react with oxygen to form strontium or barium peroxide.
Strontium forms this if it is heated in oxygen under high pressures, but barium forms barium peroxide just on normal heating in oxygen. Mixtures of barium oxide and barium peroxide will be produced.


The strontium equation would look just the same.
The reactions with air
The reactions of the Group 2 metals with air rather than oxygen is complicated by the fact that they all react with nitrogen to produce nitrides. In each case, you will get a mixture of the metal oxide and the metal nitride.
The general equation for the Group is:


The familiar white ash you get when you burn magnesium ribbon in air is a mixture of magnesium oxide and magnesium nitride (despite what you might have been told when you were first learning Chemistry!).
The Explanations
Trying to pick out patterns in the way the metals burn
There are no simple patterns. It would be tempting to say that the reactions get more vigorous as you go down the Group, but it isn't true.
The overall amount of heat evolved when one mole of oxide is produced from the metal and oxygen shows no simple pattern: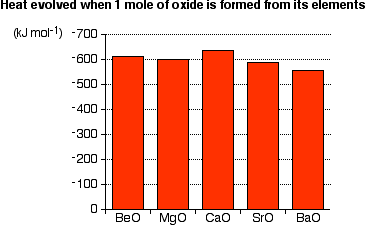 If anything, there is a slight tendency for the amount of heat evolved to get less as you go down the Group.
But how reactive a metal seems to be depends on how fast the reaction happens - not the overall amount of heat evolved. The speed is controlled by factors like the presence of surface coatings on the metal and the size of the activation energy.
You could argue that the activation energy will fall as you go down the Group and that will make the reaction go faster. The activation energy will fall because the ionisation energies of the metals fall.