And then the rather trickier ones . . .
e

This has a value of 2.71828 . . . and is a mathematical number, a bit like pi. You don't need to worry exactly what it means, although if you have to do calculations with the Arrhenius equation, you may have to find it on your calculator. You should find an ex button - probably on the same key as "ln".

The expression, e-(EA / RT)

For reasons that are beyond the scope of any course at this level, this expression counts the fraction of the molecules present in a gas which have energies equal to or in excess of activation energy at a particular temperature. You will find a simple calculation associated with this further down the page.

The frequency factor, A

You may also find this called the pre-exponential factor.

A is a term which includes factors like the frequency of collisions and their orientation. It varies slightly with temperature, although not much. It is often taken as constant across small temperature ranges.
By this time you've probably forgotten what the original Arrhenius equation looked like! Here it is again:

You may also come across it in a different form created by a mathematical operation on the standard one:

"ln" is a form of logarithm. Don't worry about what it means. If you need to use this equation, just find the "ln" button on your calculator.
Using the Arrhenius equation
The effect of a change of temperature
You can use the Arrhenius equation to show the effect of a change of temperature on the rate constant - and therefore on the rate of the reaction. If the rate constant doubles, for example, so also will the rate of the reaction. Look back at the rate equation at the top of this page if you aren't sure why that is.
What happens if you increase the temperature by 10°C from, say, 20°C to 30°C (293 K to 303 K)?
The frequency factor, A, in the equation is approximately constant for such a small temperature change. We need to look at how e-(EA / RT) changes - the fraction of molecules with energies equal to or in excess of the activation energy.
Let's assume an activation energy of 50 kJ mol-1. In the equation, we have to write that as 50000 J mol-1. The value of the gas constant, R, is 8.31 J K-1 mol-1.
At 20°C (293 K) the value of the fraction is: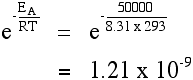 By raising the temperature just a little bit (to 303 K), this increases: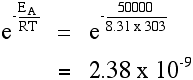 You can see that the fraction of the molecules able to react has almost doubled by increasing the temperature by 10°C. That causes the rate of reaction to almost double. This is the value in the rule-of-thumb often used in simple rate of reaction work.