There is an interaction between the delocalised electrons in the benzene ring and one of the lone pairs on the oxygen atom. This has an important effect on both the properties of the ring and of the -OH group.
One of the lone pairs on the oxygen overlaps with the delocalised ring electron system . . .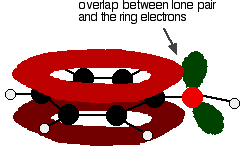 . . . giving a structure rather like this: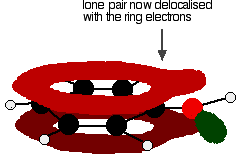 The donation of the oxygen's lone pair into the ring system increases the electron density around the ring. That makes the ring much more reactive than it is in benzene itself. That is explored in another page in this phenol section.
It also helps to make the -OH group's hydrogen a lot more acidic than it is in alcohols. That will also be explored elsewhere in this section.
Physical properties
Pure phenol is a white crystalline solid, smelling of disinfectant. It has to be handled with great care because it causes immediate white blistering to the skin. The crystals are often rather wet and discoloured.
Melting and boiling points
It is useful to compare phenol's melting and boiling points with those of methylbenzene (toluene). Both molecules contain the same number of electrons and are a very similar shape. That means that the intermolecular attractions due to van der Waals dispersion forces are going to be very similar.