Making impure bromoethane
Concentrated sulphuric acid is added slowly with lots of shaking and cooling to some ethanol in a flask. Care has to be taken because a great deal of heat is produced when the two are mixed, and there is a real risk of the ethanol boiling and spraying concentrated sulphuric acid around.
Solid potassium bromide is then added to the mixture, and the flask is connected to a condenser so that the bromoethane formed can be distilled off.




Bromoethane has a low boiling point but is denser than water and almost insoluble in it. To prevent it from evaporating, it is often collected under water in a flask surrounded by ice. Sometimes it is simply collected in a tube surrounded by ice without any water.
The reaction flask is heated gently until no more droplets of bromoethane collect.
Purifying the bromoethane
Impurities in the bromoethane include:
hydrogen bromide (although most of that will dissolve in the water if you are collecting the bromoethane under water);

bromine - from the oxidation of bromide ions by the concentrated sulphuric acid;

sulphur dioxide - formed when concentrated sulphuric acid oxidises the bromide ions;

unreacted ethanol;

ethoxyethane (diethyl ether) - formed by a side reaction between the ethanol and the concentrated sulphuric acid.
The purification sequence
Stage 1
If you have collected the bromoethane under water, transfer the contents of the collection flask to a separating funnel. Otherwise, pour the impure bromoethane into the separating funnel, add some water and shake it.
Pour off and keep the bromoethane layer.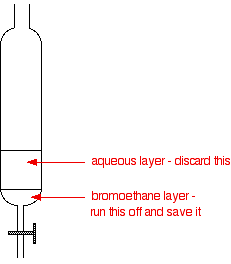 The water you discard will contain almost all of the hydrogen bromide, and quite a lot of any bromine, sulphur dioxide and ethanol present as impurities.
Stage 2
To get rid of any remaining acidic impurities (including the bromine and sulphur dioxide), return the bromoethane to the separating funnel and shake it with either sodium carbonate or sodium hydrogencarbonate solution.
This reacts with any acids present liberating carbon dioxide and forming soluble salts.
Separate and retain the lower bromoethane layer as before.
Stage 3
Now wash the bromoethane with water in a separating funnel to remove any remaining inorganic impurities (excess sodium carbonate solution, etc). This time, transfer the lower bromoethane layer to a dry test tube.
Stage 4
Add some anhydrous calcium chloride to the tube, shake well and leave to stand. The anhydrous calcium chloride is a drying agent and removes any remaining water. It also absorbs ethanol, and so any remaining ethanol may be removed as well (depending on how much calcium chloride you use).
Stage 5
Transfer the dry bromoethane to a distillation flask and fractionally distil it, collecting what distils over at between 35 and 40°C.
In principle, this should remove any remaining organic impurities. In practice, though, any ethoxyethane (which is perhaps the most likely impurity left at this stage) has a boiling point very, very close to that of bromoethane. It is unlikely that you will be able to separate the two.
If there is any ethanol left which hadn't been absorbed by the calcium chloride, that would certainly be removed because its boiling point is much higher.
What's left?
In my experience with A level students, virtually nothing if you are working on a small scale!! Every time you go through a purification stage, you inevitably lose some of what you are trying to collect.
Questions to test your understanding
If this is the first set of questions you have done, please read the introductory page before you start. You will need to use the BACK BUTTON on your browser to come back here afterwards.
questions on making halogenoalkanes
Where would you like to go now?
---
© Jim Clark 2003 (modified September 2015)