The reaction with phenols
The reaction with phenol itself
Phenols have an -OH group attached directly to a benzene ring. In the substance normally called "phenol", there isn't anything else attached to the ring as well. We'll look at that first.
The reaction between phenol and ethanoic anhydride isn't particularly important, but you would get an ester just as you do with an alcohol.


Or, more simply:


Especially if you write the equation in this second way, it is obvious that you have just produced another ester - in this case, called phenyl ethanoate.
The equivalent acyl chloride reaction is:


But beware! You may come across the structure of the ester drawn in a variety of other ways which make it look much more as if it was a derivative of phenol (which of course it is!).
For example:

Looking at it this way, notice that the hydrogen of the phenol -OH group has been replaced by an acyl group - an alkyl group attached to a carbon-oxygen double bond.
You can say that the phenol has been acylated or has undergone acylation.
Because of the nature of this particular acyl group, it is also described as ethanoylation. The hydrogen is being replaced by an ethanoyl group, CH3CO-.
Using a similar reaction to make aspirin
The reaction with phenol itself isn't very important, but you can make aspirin by a very similar reaction.
The molecule below is 2-hydroxybenzoic acid (also known as 2-hydroxybenzenecarboxylic acid). The old name for this is salicylic acid.
You might find it written in either of these two ways. They are the same structure with the molecule just flipped over in space.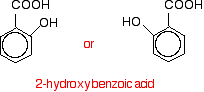 You might also find it with the -OH group at the top and the -COOH group next door and either to the left or right of it. Life can get very confusing!
When this reacts with ethanoic anhydride, it is ethanoylated (or acylated, if you want to use the more general term) to give:

You might find all sorts of other variants on drawing this as well.
This molecule is aspirin.
Although this reaction can also be done with ethanoyl chloride, aspirin is manufactured by reacting 2-hydroxybenzoic acid with ethanoic anhydride at 90°C.
The reasons for using ethanoic anhydride rather than ethanoyl chloride include:
Ethanoic anhydride is cheaper than ethanoyl chloride.

Ethanoic anhydride is safer to use than ethanoyl chloride. It is less corrosive and not so readily hydrolysed (its reaction with water is slower).

Ethanoic anhydride doesn't produce dangerous (corrosive and poisonous) fumes of hydrogen chloride.
Where would you like to go now?
---
© Jim Clark 2004 (modified January 2016)