Building a DNA chain concentrating on the essentials
What matters in DNA is the sequence the four bases take up in the chain. We aren't particularly interested in the backbone, so we can simplify that down. For the moment, we can simplify the precise structures of the bases as well.
We can build the chain based on this fairly obvious simplification:

There is only one possible point of confusion here - and that relates to how the phosphate group, P, is attached to the sugar ring. Notice that it is joined via two lines with an angle between them.
By convention, if you draw lines like this, there is a carbon atom where these two lines join. That is the carbon atom in the CH2 group if you refer back to a previous diagram. If you had tried to attach the phosphate to the ring by a single straight line, that CH2 group would have got lost!
Joining up lots of these gives you a part of a DNA chain. The diagram below is a bit from the middle of a chain. Notice that the individual bases have been identified by the first letters of the base names. (A = adenine, etc). Notice also that there are two different sizes of base. Adenine and guanine are bigger because they both have two rings. Cytosine and thymine only have one ring each.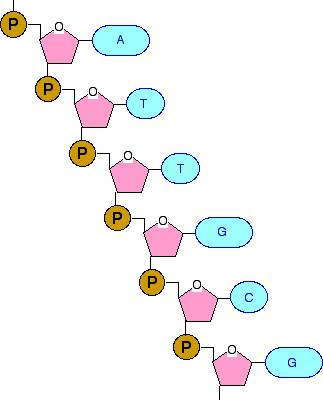 If the top of this segment was the end of the chain, then the phosphate group would have an -OH group attached to the spare bond rather than another sugar ring.
Similarly, if the bottom of this segment of chain was the end, then the spare bond at the bottom would also be to an -OH group on the deoxyribose ring.
Joining the two DNA chains together
The importance of "base pairs"
Have another look at the diagram we started from: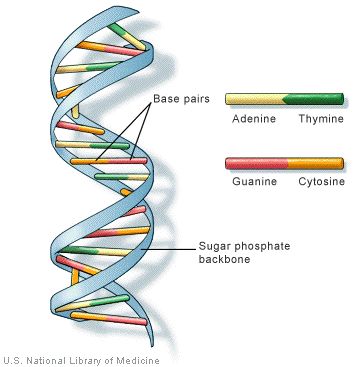 If you look at this carefully, you will see that an adenine on one chain is always paired with a thymine on the second chain. And a guanine on one chain is always paired with a cytosine on the other one.
So how exactly does this work?
The first thing to notice is that a smaller base is always paired with a bigger one. The effect of this is to keep the two chains at a fixed distance from each other all the way along.
But, more than this, the pairing has to be exactly . . .
adenine (A) pairs with thymine (T);

guanine (G) pairs with cytosine (C).
That is because these particular pairs fit exactly to form very effective hydrogen bonds with each other. It is these hydrogen bonds which hold the two chains together.
The base pairs fit together as follows.
The A-T base pair: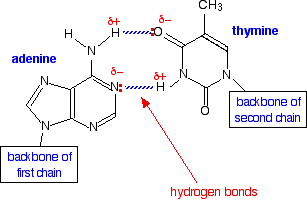 The G-C base pair: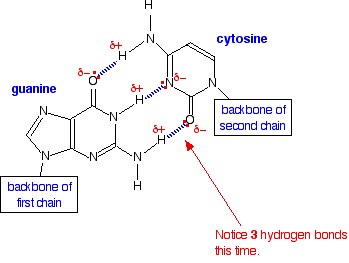 If you try any other combination of base pairs, they won't fit!