The slightly positive hydrogen atom in the sulphuric acid acts as an electrophile, and is strongly attracted to the electrons in the pi bond.
As the sulphuric acid approaches the pi bond, the electrons in that bond are drawn down towards the slightly positive hydrogen atom. That repels the electrons in the hydrogen-oxygen bond down towards the oxygen.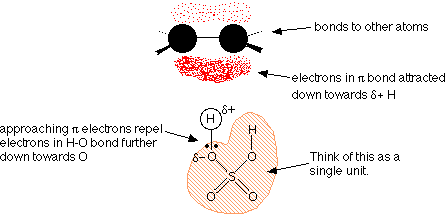 The electron movements continue until a new bond is made between one of the carbon atoms and the hydrogen. The oxygen now has both electrons from the H-O bond, and so becomes negatively charged.
The problem is that there are two possible ways that the pi bond electrons could move.
They could form a bond between the hydrogen and the left-hand carbon: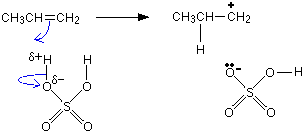 or they could form a bond with the right-hand one: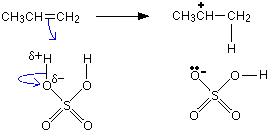 It's the second of these changes that happens more readily. In that case, a secondary carbocation is formed - and that's more energetically stable than the primary one formed in the first possibility.
Because the secondary ion is more energetically stable, it will form more easily and so the reaction needs less activation energy - and so happens faster.