The other "hydroxides"
A quick reminder of what we are talking about here: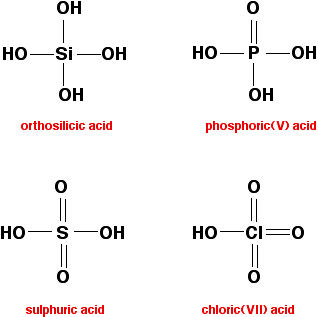 None of these contains hydroxide ions. In each case the -OH group is covalently bound to the Period 3 element, and in each case it is possible for the hydrogens on these -OH groups to be removed by a base. In other words, all of these compounds are acidic.
But they vary considerably in strength:
Orthosilicic acid is very weak indeed.

Phosphoric(V) acid is a weak acid - although somewhat stronger than simple organic acids like ethanoic acid.

Sulphuric acid and chloric(VII) acids are both very strong acids.
The main factor in determining the strength of the acid is how stable the anion (the negative ion) is once the hydrogen has been removed. This in turn depends on how much the negative charge can be spread around the rest of the ion.
If the negative charge stays entirely on the oxygen atom left behind from the -OH group, it will be very attractive to hydrogen ions. The lost hydrogen ion will be easily recaptured and the acid will be weak.
On the other hand, if the charge can be spread out (delocalised) over the whole of the ion, it will be so "dilute" that it won't attract the hydrogen back very easily. The acid will then be strong.
Wherever possible, the negative charge is delocalised by interacting with doubly-bonded oxygens.
For example, in chloric(VII) acid, the ion produced is the chlorate(VII) ion (also known as the perchlorate ion), ClO4-.
The structure of the ion doesn't stay like this:

Instead, the negative charge is delocalised over the whole ion, and all four chlorine-oxygen bonds are identical.