At any one time, the concentration of hydrogen ions or hydroxide ions will be very small - the position of equilibrium lies well to the left-hand side.
At the anode
The negative ions, chloride and hydroxide, get attracted towards the positively charged anode. It is actually easier to liberate hydroxide ions (to give oxygen) than chloride ions (to give chlorine), but there are far, far more chloride ions arriving at the anode than hydroxide ions.
The major reaction at the anode is therefore:


Two chloride ions each give up an electron to the anode, and the atoms produced combine to give chlorine gas.
The chlorine is, however, contaminated with small amounts of oxygen because of a reaction involving hydroxide ions giving up electrons as well.


The chlorine has to be purified to remove this oxygen.
At the cathode
Sodium ions and hydrogen ions (from the water) are attracted to the negative cathode. It is much easier for a hydrogen ion to pick up an electron than for a sodium ion. So this reaction happens:


As the hydrogen ions are converted into hydrogen gas, the water equilibrium tips to the right to replace them.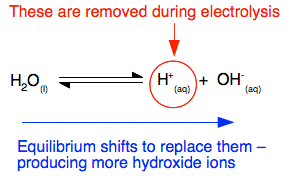 The net effect of this is that there is a build up of sodium ions and these newly-produced hydroxide ions around the cathode. In other words, sodium hydroxide solution is being formed around the cathode.
The need to keep all the products separate
If chlorine comes into contact with hydrogen, it produces a mixture which will explode violently on exposure to sunlight or heat. Hydrogen chloride gas would be produced. Obviously, the two gases need to be kept apart.
However, chlorine also reacts with sodium hydroxide solution to produce a mixture of sodium chloride and sodium chlorate(I) - also known as sodium hypochlorite. This mixture is commonly sold as bleach.
Therefore, if you are trying to manufacture chlorine and sodium hydroxide rather than bleach, you have to keep the chlorine and sodium hydroxide apart as well.
The diaphragm and membrane cells are designed so that all the products are kept separate.
The diaphragm cell