Formation of pure aluminium oxide
Aluminium oxide (sometimes known as alumina) is made by heating the aluminium hydroxide to a temperature of about 1100 - 1200°C.


Conversion of the aluminium oxide into aluminium by electrolysis
The aluminium oxide is electrolysed in solution in molten cryolite, Na3AlF6. Cryolite is another aluminium ore, but is rare and expensive, and most is now made chemically.
The electrolysis cell
The diagram shows a very simplified version of an electrolysis cell.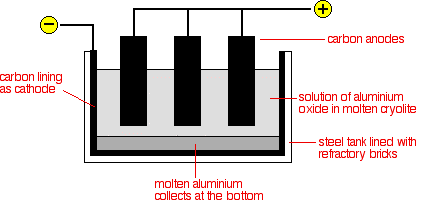 Although the carbon lining of the cell is labelled as the cathode, the effective cathode is mainly the molten aluminium that forms on the bottom of the cell.
Molten aluminium is syphoned out of the cell from time to time, and new aluminium oxide added at the top.
The cell operates at a low voltage of about 5 - 6 volts, but at huge currents of 100,000 amps or more. The heating effect of these large currents keeps the cell at a temperature of about 1000°C.
The electrode reactions
These are very complicated - in fact one source I've looked at says that they aren't fully understood. For chemistry purposes at this level, they are always simplified (to the point of being wrong! - see comment below).
This is the simplification:
Aluminium is released at the cathode. Aluminium ions are reduced by gaining 3 electrons.


Oxygen is produced initially at the anode.


However, at the temperature of the cell, the carbon anodes burn in this oxygen to give carbon dioxide and carbon monoxide.
Continual replacement of the anodes is a major expense.