Update September 2015: Tom Dodds sent me a photo of an old bottle of TCP dating probably somewhere between the mid-1930s and mid-1940s, for which I am very grateful. This goes some way to listing what went in to making the TCP, although not the actual compounds.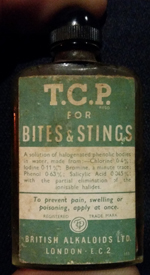 The ingredients list is too small to read on this web version, but it says:
A solution of halogenated phenolic bodies in water, made from :- Chlorine 0.4%; Iodine 0.11%; Bromine a minute trace; Phenol 0.63%; Salicylic acid 0.045%; with the partial elimination of the ionisable halides .
Adding to the confusion!
TCP is a brand name for a mild antiseptic, originally based on the word trichlorophenylmethyliodosalicyl, but no longer containing it.
Unfortunately TCP is also a commonly used abbreviation for trichlorophenol (which may or may not be one of the components of the "halogenated phenols" present in a bottle of TCP antiseptic!).
2,4,6-trichlorophenol (together with a whole lot of other trichlorophenols where the three chlorines are arranged differently around the benzene ring) is used as a pesticide, bactericide and fungicide. In other words, it is pretty good at killing things! It is also a suspected carcinogen.
The fact that it is fairly unpleasant doesn't, of course, mean that it couldn't be used safely in very dilute solution, and so doesn't exclude the possibility that it may be there in small quantities in TCP antiseptic. (See below.)
Update July 2014
I have had an e-mail from a specialist in Pharmaceutics at Aston University who makes a number of useful points.
Perhaps the most important is that TCP is likely to contain different active ingredients depending on whether you buy it as an ointment or a cream or a liquid. Halogenated phenols aren't very water soluble, and so if your TCP is sold as an aqueous cream or a liquid, it may well contain different antimicrobial compounds than an oil-based ointment.
On the toxicity problem, he points out that halogenated phenols aren't absorbed by the skin very well, so using them externally shouldn't cause a problem.
And finally he notes that, certainly in early versions of TCP, there was almost certainly a mixture of products from the halogenation process, containing all possible substitutions of halogen atoms into the phenol ring. I suspect that may be why the current formulation of TCP liquid mentioned above contains "halogenated phenols" rather than specifically named ones.
The moral to all this
The really important point I want to make isn't about what TCP contains or doesn't contain. It is about the use of information you find on the internet.
It is very easy to assume that because you find some bit of information all over the internet it must be right. It doesn't work like that!
I found lots of references to TCP antiseptic containing trichlorophenylmethyliodosalicyl, despite the fact that it hasn't had this substance in it for at least 60 or 70 years, but many of these references could be tracked back to the same Wikipedia article. In other cases, the wording was sufficiently similar that although the source wasn't acknowledged, it probably came from Wikipedia as well.
The internet is a potentially dangerous tool. One single bit of misinformation can get multiplied over huge numbers of web sites until a Google search for it will produce page after page all pointing at the same false information on different sites - and the truth (assuming anybody knows it) gets completely swamped out.
And there is no control over this - for the vast majority of web sites, there is no editor checking your facts, and there are no reviewers criticising every sloppy statement.
Because you find a bit of information on the internet, you can't assume that it is true.
Remember that every time you do an internet search!