Advanced Level Practical Work for Chemistry
Unfortunately, this book is now out of print. If you can find a reasonably priced copy anywhere (either new or second-hand), buy it before it is too late.
This book talks you through the things you need to know and be able to do in the practical parts of UK A level chemistry, and so plugs an important gap in what you will find on Chemguide.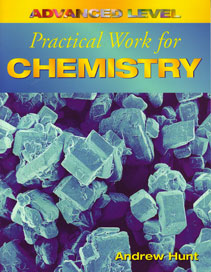 The author, Andrew Hunt, is a major figure in chemistry education in the UK, and you can have confidence that he knows what he is talking about.
The book is relatively short (just over 100 pages) and well laid out and easy to follow. As with almost all textbooks, there are a few places where you feel that a long word could just as well have been replaced by a short one - but on the whole the book is easy to read.
What the book covers
The book covers the sort of practical skills you need whether your practical work is being assessed by your teacher or by an exam of some sort.
It talks in a general way about planning experiments, carrying them out, analysing and drawing conclusions from your results, and then evaluating what you have done. It also has a useful (and easily understandable) chapter on how to work out percentage errors in experiments, and a short guide to hazard and risk assessment. Then, at the end of each chapter about specific techniques, it applies all this to actual examples.
Individual chapters give you a cross-section of all sorts of practical situations you might have to deal with.
These include:
simple experiments involving moles (for example, finding the formula for a hydrated salt);

all sorts of reactions involving titrations (for example, finding the concentration of chlorine in bleach, or the percentage of calcium carbonate in egg shells);

thermochemistry experiments;

rates of reaction;

equilibria (including pH);

inorganic analysis and observation exercises (including useful tables of tests for things);

organic analysis tests;

making organic compounds (including useful information about making and purifying both liquid and solid products and checking their purity).
Limitations of the book

Scope

You mustn't assume, though, that the book will give you foolproof recipes which you can copy out to get full marks. It couldn't possibly do that given its short length. In any case, if this sort of full detail was readily available from a textbook aimed at A level practical work, teachers and examiners would soon come up with alternative experiments to use - otherwise the whole exercise is pointless. They are trying to test your practical ability - not your ability to copy something out word-for-word!

What you do get is enough outline detail for you to be able to see where you are going, and guidance as to how to fill in the fine detail yourself. Alternatively, a particular experiment you want may not be there at all - but if you have worked through the book, you should find something that you could adapt, or at least know exactly what is required of you in the write-up when you find experimental details from some other source.

Calculations

There are worked examples for all the calculations produced by the various experiments, but you would have to be fairly confident about calculations to be able to understand them without some effort. That's inevitable given the length of the book - this is a book about practical chemistry, not about calculations.

There were a couple of things in the calculations that I didn't like - although I can see the reasons for them.
Titrations calculations were done by slotting numbers into a formula. That's fine as long as the calculation is in exactly the form that you have learnt the equation for. If it is slightly unfamiliar, you will be lost. I personally have always discouraged using formulae for sums - it is much better to understand what you are doing. However, in a book this length, using a formula takes up much less space!

I also found, especially in an early chapter about moles, that the author's use of units in formulae made things look more complicated than they were. Technically, he is absolutely right to do so; personally, I would be happier to lose a bit of technical accuracy in favour of it being a bit less scary-looking!
Go to Main Menu . . .
---
© Jim Clark 2006 (up-dated 2008)