Why are acyl chlorides attacked by nucleophiles?
The carbon atom in the -COCl group has both an oxygen atom and a chlorine atom attached to it. Both of these are very electronegative. They both pull electrons towards themselves, leaving the carbon atom quite positively charged. It is that carbon atom which is attacked by one of the lone pairs on the oxygen atom in a water molecule.
The ethanoyl chloride molecule is also planar (flat) around that carbon atom, and that leaves plenty of room for a nucleophile to attack either from above or below the plane of the molecule.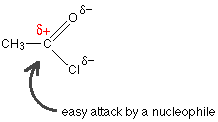 The mechanism
The reaction happens in two main stages - an addition stage, followed by an elimination stage.
In the addition stage, a water molecule becomes attached to the carbon in the ethanoyl chloride.
As the lone pair on the water approaches the fairly positive carbon in the ethanoyl chloride, it moves to form a bond with it. In the process, the two electrons in one of the carbon-oxygen bonds are repelled entirely onto the oxygen, leaving that oxygen negatively charged.